Dear Property Owner,
The Klyde Warren Park and Dallas Arts District Public Improvement District (PID) was created in 2014 to invest in the beloved 5.2 acre green space and the largest contiguous urban arts district in the nation.
Since then, the District has been transformed into one of the most prosperous and vibrant areas in the country:
Value of the properties in the PID has more than
Commercial rental rates and occupancy levels have increased
Employers and cosmopolitan residents alike are drawn to the nearby
We have been recognized for excellence in urban design by numerous notable organizations including the Urban Land Institute, American Institute of Architects, American Society of Landscape Architects, Texas Society of Architects, and the Michelin Green Guide.
The funding that the PID provides each year allows us to keep our District beautiful, safe, clean and active, and you will find more detail about that in the following pages. Klyde Warren Park and the Dallas Arts District rely on the PID for approximately 23% and 20% of our annual operating budgets respectively. Both entities are managed by 501(c)(3) charitable foundations, and rely on the generosity of donors, sponsors, and grants for the remainder of our funding.
This year, the PID must be renewed by petition of property owners representing at least 60% of the value and 60% of all record property owners, or 60% of land area. We trust you believe the assessment of 2.5 cents for every 100 dollars in appraised value, which is the lowest rate among all City of Dallas PIDs, has delivered a strong return on investment. If so, we ask you to sign and return the enclosed petition indicating your support by January 1, 2021.
 Thank you in advance for your partnership as we continue working together to ensure our live-work-play neighborhood continues to thrive. Further information and materials may be found at www.klydewarrenpark.org/PID. If you have any questions in the interim, please don't hesitate to contact us at info@klydewarrenpark.org.
Sincerely,
A CATALYST FOR APPRECIATION
The Park and flourishing Arts District have connected Uptown and Downtown in ways that urban planners only dream of, creating a vibrant city core for everyone to enjoy. It has also driven unprecedented development, as well as property value and rental rate appreciation.
Assessed values in the District have more than doubled in the past six years:
2013=$2.5 billion
2019: $5.3 billion
Commercial rental rates and occupancy levels in the District have increased dramatically over the same time period: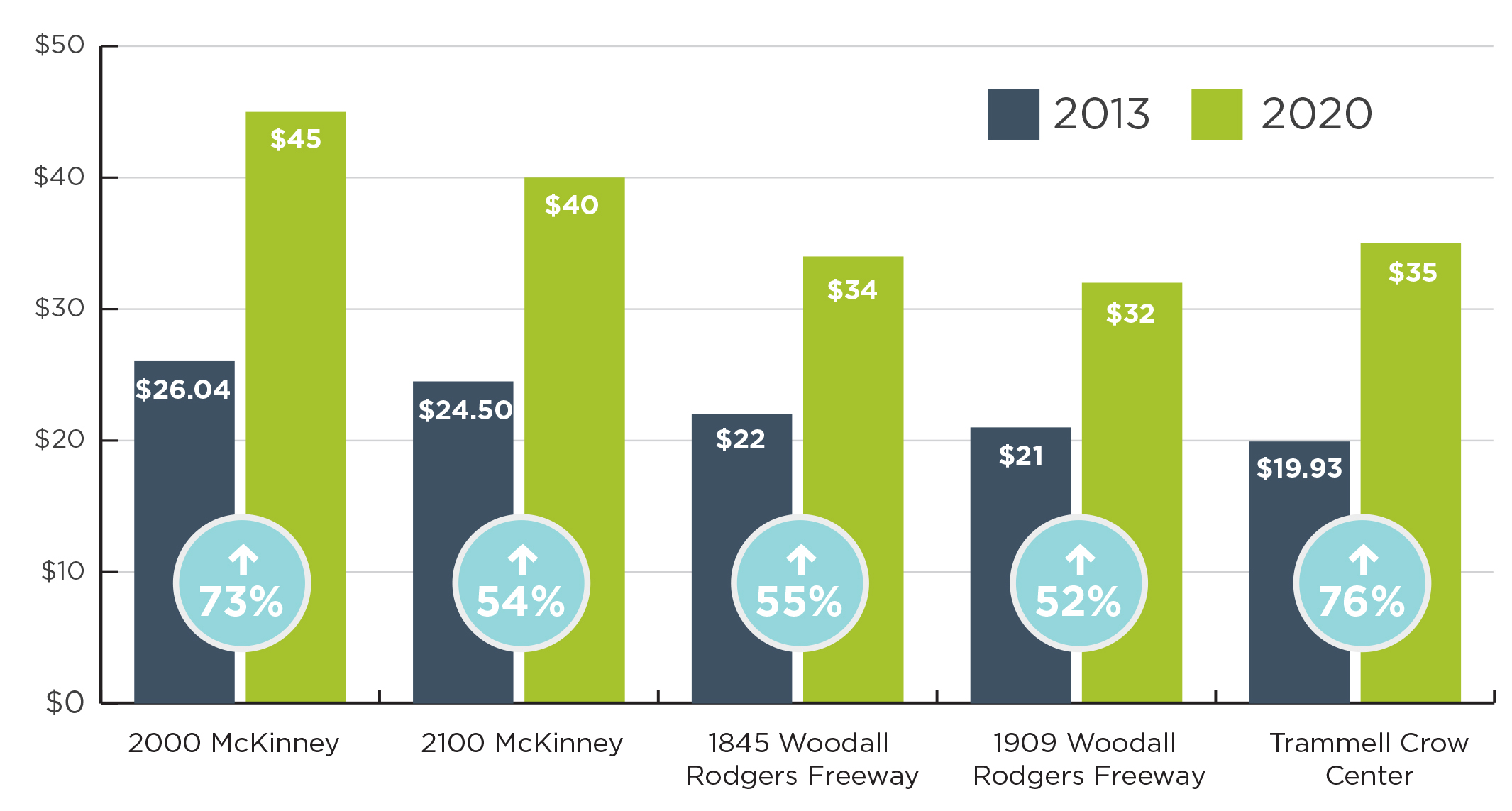 New development and re-development have been prolific since the District was established.

We have been able to accomplish all of this for 2.5 cents per every $100 of value, which is the LOWEST RATE among all City of Dallas PIDs, and it is not being increased.
FUNDING HIGHLIGHTS
Funding from the PID may be used in a variety of ways and we are pleased to highlight some of the most impactful:
Security
Klyde Warren Park has security personnel 24-hours a day and 7-days a week to help keep our guests, and the grounds, safe. They are also great ambassadors and can always be found walking the Park, often greeting our guests and neighbors. The Park and Arts District utilize Dallas Police Department officers for special events and other times when having law enforcement close by is beneficial.
Custodial Services
The neighborhood of Klyde Warren Park and the Dallas Arts District draws 4.3 million visitors annually, including more than 500,000 students. With the help of the PID, the Park is able to provide daily trash removal, weekly deep cleaning, and other sanitizing measures to keep the Park in tip-top condition. Additionally, the water features at Klyde Warren Park are some of the most beloved spaces in the Park. In fact, in 2019, The Dallas Morning News named the Park to their list of "Best Water Parks and Free Splash Pads in Dallas-Fort Worth." With the help of PID funds, the water features are serviced multiple times each week and the water is tested daily to ensure pristine conditions. Additionally, The Arts District was awarded a maximum 3-star rating by the coveted Le Guide Vert-Michelin Green Guide, as well as the Texas Citation of Honor Award.
Cultural Enhancements and Programming
One of the Arts District programmatic highlights is the Signature Block Party Series comprised of two free public events currently offered each spring and summer, in conjunction with events at the cultural venues, which draw more than 60,000 visitors from over 144 different zip codes annually. Additionally, special art installations and placemaking events bring the District to life, including IMPULSE, featuring twelve LED seesaws that experimented with light and sound activated by the public, and
BANDALOOP Vertical Dance Company performed on the east façade of the KPMG HALL Arts Plaza. These events welcome visitors and residents to the neighborhood making art free and accessible to the public.
Wayfinding
Dallas Arts District has four signage kiosks on Ross Avenue that has an updated map featuring highlights of the neighborhood, including restaurants, cultural venues, and more. Additionally, wayfinding tells you the walking distance from that point. In addition, the neighborhood is filled with banners that market the events in the District.
Holiday Lightning and Decorations
The District becomes even more beautiful for the holidays thanks in part to PID funding that helps to pay for Klyde Warren Park's stunning tree, and the lights that outline each of our famous arches, which were so popular that we now leave them up year-round. The lighting of the tree at Klyde Warren Park is followed by the AT&T Performing Arts Center's Reliant Lights Your Holidays — a free, family friendly event, so bring your entire family for an evening of holiday magic.
RENEWAL NEXT STEPS
This year, the PID must be renewed by petition of property owners representing at least:

60% of the value and
60% of all record property owners or 60% of land area.

Rate will remain the same; lowest of all City of Dallas PIDs.
10-year term.
Boundary will now include Northend Apartments on Field Street as they have agreed to invest.
Petitions will be sent to all property owners in the District, and we hope you will sign and return.