As a dancer and teacher, Lily Cabatu Weiss operated close to the ground. "That's what I consider my forte — floor work," the diminutive director of the Dallas Arts District explains in an interview from her 16th-floor office overlooking the neighborhood. "You ask any of my graduates and they'll say, 'She's going to take you to the floor a million times.' Of course, I'm closer to the ground to begin with."
Whether it has anything to do with her physical relationship to the environment, Weiss has a gift for reading the terrain around her. That was an important quality when the Arts District board chose her last year to lead them in a crucial period for the 19-block home to Dallas' major cultural facilities.
The Sasaki Plan, adopted in 1983 to govern development in the district, is currently undergoing a review that involves city officials, real-estate developers and other downtown business interests. They are trying to come up with ways to "activate the street," in Weiss' words, so that patrons in car-obsessed Dallas don't just drive in to see a performance or visit a museum, then drive out. "It's not even about reading the room," she says, of her talent for creating consensus. "It's getting to know the personalities — who they are, what they stand for. Life is a compromise. We get goals collectively."
One of the goals of the new Dallas Arts District Master Plan, an infrastructure streetscape plan that would replace the Sasaki Plan, is to bring more people into the district who aren't holding a ticket or headed to a particular paid event. The success of the Klyde Warren deck park atop Woodall Rogers Freeway, which gets packed on the weekends, and the tens of thousands of residents who attended the free outdoor Aurora light festival in 2016 is proof that if you build it, they will come. Museum nights and block parties are also drawing crowds, and activists are lobbying for more such opportunities, including live performances outside the district's venues.
"We want to be an accessible district," Weiss says. "Is it going to happen overnight? No. But in my mind, we're starting to make the right choices," for instance the new plan's proposal to create more pedestrian-friendly streets with wider sidewalks, improved lighting and an infusion of retail shops and restaurants. Also aiding the district's evolution are a number of private projects under construction, including a hotel-condo tower and subsidized artists lofts as part of a new mixed use building that will increase the number of people staying and living in the district, "the kind of 24-7 life we want." The new plan also calls for connecting the district with the surrounding West End, Victory, Uptown and Deep Ellum neighborhoods. As a start, Weiss cites several new restaurants scheduled to join the recently opened Tortaco on Ross Avenue, connecting the district to downtown. "You want retail and other reasons for people to stay on the street," she says. "Those urban ideas are strategic in telling people they are welcome. It's a game-changer. I see the energy and the synergy of all of the neighborhoods changing."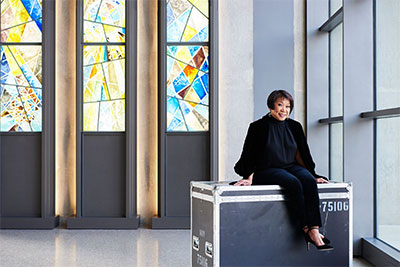 Weiss is uniquely positioned to be a key player moving the Dallas Arts District forward because she has worked in the district for so long and is intimately familiar with all of the interest groups. She came to Dallas from Houston in 1978 to teach dance at the then-2-year-old Arts Magnet High School, now Booker T. Washington High School for the Performing and Visual Arts. Launched in 1976 as part of the federal court order desegregating Dallas schools, Booker T. sits adjacent to Winspear Opera House and across the street from Moody Performance Hall and the Wyly Theatre, all built in the past decade as the original Arts District plan reached fruition.
In 2001, she was promoted to dance coordinator and then became only the second artistic director in the school's history in 2015. During her tenure, Booker T. turned into one of the most recognized high-school arts programs in the country. This year alone, five senior boys were accepted for dance training at the Julliard School out of a dozen nationwide. Three years ago, four dance graduates and a theater student made it into the prestigious New York institution. And those were no flukes. The 1989 class spawned pop singer Erykah Badu, jazz musician Roy Hargrove and Bridget L. Moore, an Oak Cliff native who was named the new artistic director of Dallas Black Dance Theatre earlier this year. Weiss remembers Moore organizing a coterie of dance students willing to work with her in the mornings before school started, including giving everyone a wake-up call for the 7:30 session.
Weiss credits the success of the Arts Magnet to its experimental nature under original artistic director Paul Baker, the former Dallas Theater Center honcho and Baylor University theater program innovator, who leveraged his credentials into the kind of freedom, access and budget allocation that helped the program to take off. Booker T. had a historical legacy, having been the high school attended by all African-American students in Dallas starting in 1922. "It was a culture we all bought into,"  she says, including the groundbreaking idea to have some courses taught by practicing artists rather than solely relying on teachers trained in education. College recruiters began flocking to the school so frequently that a College Showcase Week had to be created to cut down on interruptions to the curriculum.
Weiss was born in Anchorage, Alaska, the youngest of five girls. She grew up in El Paso, where her father, a first-generation immigrant from the Philippines, was stationed in the Army. Believe it or not, at that time El Paso had dance training in the public schools. "It all boils down to a teacher who says, 'Yeah, you can do this.' It's always a teacher who says, 'Here are the tools,' " Weiss observes, in her case her high school dance teacher, Patty Uribe, who suggested Texas Woman's University for college. "I was also that for students. You want kids to be able to dream and to realize that dream."
Weiss received her dance degree from the Denton-based state university when the program was still part of the physical education department and went on to a master's there as well. She credits her growth in part to TWU's role as a dance presenter. It allowed her to take master classes regularly from members of the companies of legendary choreographers like Martha Graham and Paul Taylor, putting her academic training into practice. The same thing happened at Booker T., where students were offered classes from national groups touring through Dallas. Today, she is on the board of TITAS Presents, the main organizer of such Dallas shows. While teaching in both Houston and Dallas, Weiss danced with a number of companies in Texas, New York and Japan, including pickup ensembles organized by fellow academicians. "I loved moving," she says. "I'm such a physical person, and I'm a better person when I'm active."
Right now her activity is focused on drawing residents from all over North Texas to the Dallas Arts District, making it one of the liveliest areas of town.
—MANUEL MENDOZA